Complimentary Tools to Help Hone Your Proposal Skills
Bid-No-Bid Decision Calculator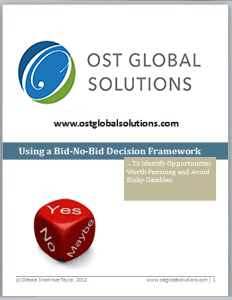 Identify opportunities worth pursuing and avoid risky gambles using a bid-no-bid decision framework. Our handy Bid-No-Bid Decision Framework will help you remain objective, saving valuable resources for the bids you can win.
How to Build a Proposal Schedule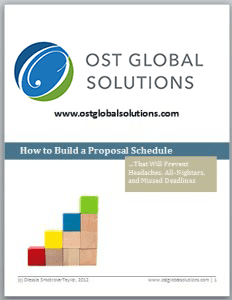 Every business seeking growth through Government contracts needs proposal schedule that prevents headaches, all-nighters, and missed deadlines. That's why building a proposal management schedule after you have read the RFP is critical. It will serve as your roadmap for the next (however many) days or weeks the Government has given you to respond to and write the proposal.
FREE eBook: 10 Success Factors for Building a Government Contract Opportunities Pipeline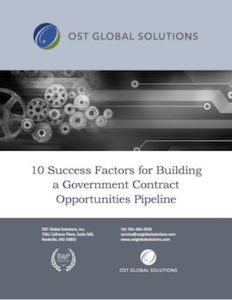 Our comprehensive free eBook will teach you how to grow your business and experience the immediate confidence that comes from understanding all the factors that go into making a pipeline development process successful, including:
o How to develop pipelines of qualified contract opportunities
o What tools are available to you and your team
o Important do's and don'ts of the pipeline development process
o And much more
How to Vet Teaming Partners Checklist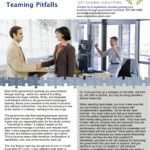 Teaming on government contracts should be done in a deliberate, well-planned manner. Part of teaming is vetting your teaming partners thoroughly. Use our free checklist to help you build an all-star team that the customer can get excited about and prevent proposal and execution problems.
Proposal Procrastination Flowchart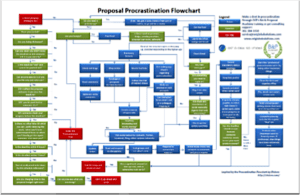 Got a proposal section that you're putting off writing or having trouble starting? Maybe you're in the procrastination loop. Identifying where you are in the procrastination loop may help you break out of it. This flowchart is great to hang in your office or cubicle so that you can refer to it when a deadline is approaching and you need to start writing. Or, maybe you're perfectly happy procrastinating and will download this flowchart later.